This Halloween you are all invited to – Darndale Together After Dark, in association with Creative Places Darndale!
Come along to join in this spooktacular event on October 31st in the Darndale Belcamp Village Centre. A evening that promises stranger things, ghoulish goings on, haunted houses, face painting, fireworks and so much more besides for all the family. Just take a look below to check out all of the fun activities taking place.
As well as a host of other things happening, the Darndale Together After Dark Cabaret show takes place from 4pm – featuring music and dance from the Dance X school and pupils from Our Lady Immaculate Senior National School, followed by music from, among others, acclaimed Dublin acts Shakalak and Grooveline.
The After Dark Cabaret show will be opened by our special guest for the evening – boxer Ava Henry, who recently won the European Junior Championship!
Ava, from Kilmore West, is a four-time All-Ireland champion, a European silver medallist, and has trained in the Dublin Docklands Boxing Club for the past two years. She is a true inspiration to all young people in the area and we are so proud to have her at the festival.
The evening will culminate with a lantern procession to Darndale Park where all in attendance will witness a stunning firework display – the perfect way to finish a Halloween night to be remembered!
That follows four weeks of lantern marking in the local primary school, Our Lady Immaculate, and at local youth service providers Sphere 17, and The Dales.
"This event is a wonderful opportunity for families to have a super time at Halloween and should not be missed," said Dr Jack Nolan, chair of the Darndale Implementation Oversight group.
"Darndale Together After Dark' will promote the area in a wonderfully positive light, as well as bringing great fun and colour."
So, tell your friends and family, get your costumes sorted and put this event in your diary. You won't want to miss Darndale Together After Dark – it'll be the best (horror) show in town!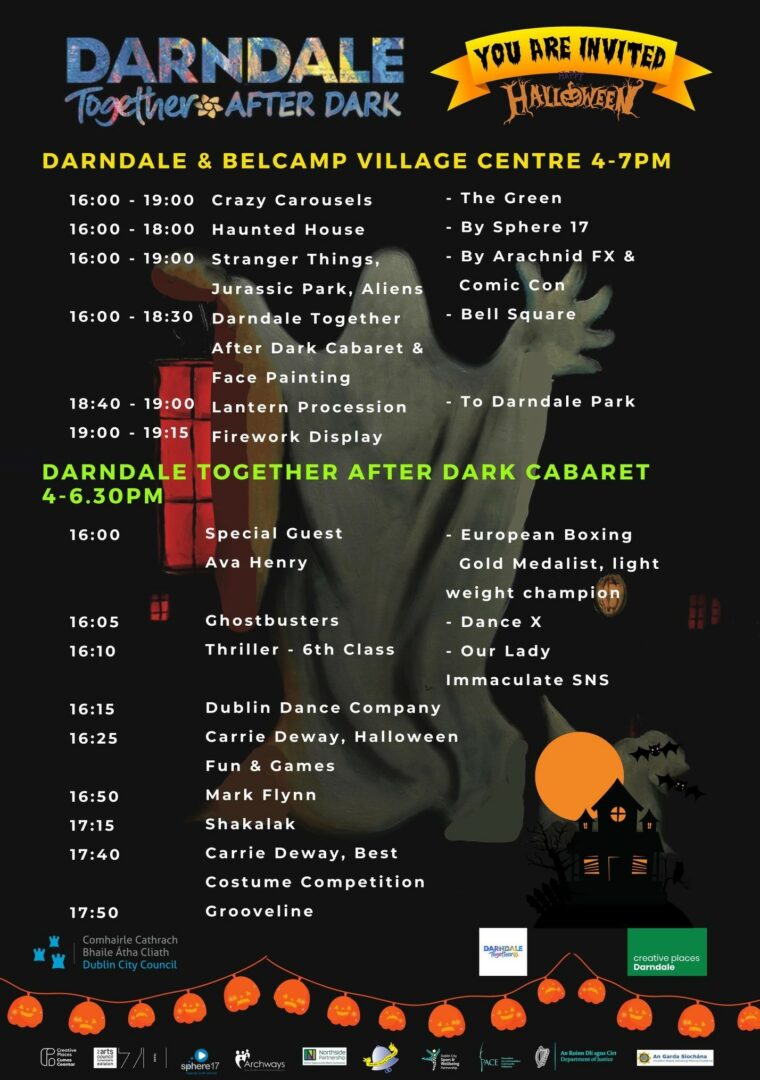 The event is kindly supported by Dublin City Council, in association with Creative Places Darndale.